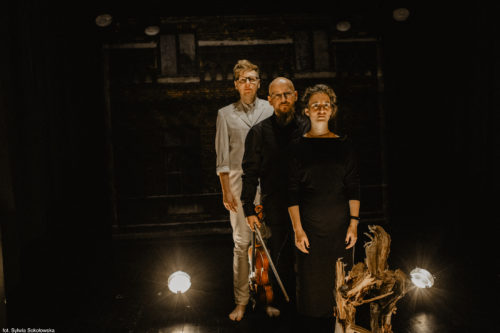 The Passing Songs is a concert built from Polish ritual songs, with the dominance of Lublin funeral songs. The minimalist composition works in this case perfectly, and the performers form a complete, coherent whole on the stage. Grochocki – a researcher and archivist of Polish songs, a registrar of life, death and stories spellbound in words, on the stage like a Greek narrator takes viewers outside the place called the very end. There, Odorowicz is waiting to fill up the place of forgotten everyday life with a mixture of fulfillment, excruciating pain, ultimate longing, love fulfilled and disappointed, its lack, reconciliation and expectation … The complement of the whole picture, Kozieł's voice, is delicate, yet penetrating to the bone, which can bring out all deeply hidden memories – joyful, sad, the most intimate …
They play on the most sensitive strings. In every possible way. They remind us that the last resort is final and we can only accept it. And that it depends only on us how we do it. At the same time, meeting them is very intimate. As if the message from the stage was directed to each of us separately. And it immediately gets to the point. Like the last conversation with a real friend …
During the concert, a song performed by Antoni Hoduna from the village of Długołęka (Krypno commune, Podlasie region) will be used, coming from the album "People's religious songs from Podlasie" published by the Heritage Association of Podlasie.
Information about the creators / performers: Paweł Grochocki and Paweł Odorowicz as Lubliners met in Szczecin, standing in a queue for prizes won during the 2nd Real Musicians' Tournament, when both in their categories (solo singer, soloist instrumentalist) took second place. They considered a sufficient contribution to start cooperation and conquer the world with Polish funeral songs. Their interpretation deeply touched the audience and the jury of the 20th edition of the Polish Radio Festival New Tradition – as a duo Grochocki_Odorowicz they won the Grand Prix there.
In 2019, Olga Kozieł joined them – they released an album titled The Passing Songs.