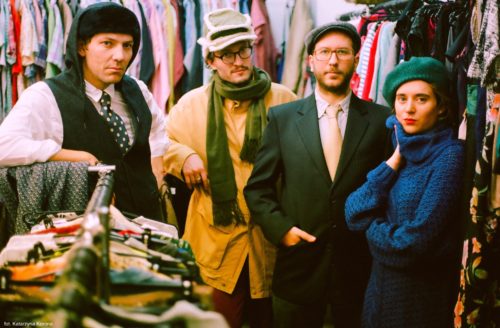 Louis Laurain : trumpet
Pierre Borel : saxophone
Olga Kozieł : voice & percussions
Sébastien Beliah : double bass
Lumpeks is a french-polish quartet created by the french double bass player based in Warsaw Sébastien Beliah. He gathered around him two emiment improvisers from the french jazz scene Pierre Borel (saxophone) and Louis Laurain (trumpet) and the talentful polish singer and percussion player Olga Kozieł. This band manage to create a thoughtful mix between jazz and traditional polish music. From this encounter across the border is born a singular style shuffling the energetic creativity of jazz improvisations and the strength of folk dancing music from Poland.
Lumpeks has been awarded by the Grand Prix during the contest Nowa Tradycja 2019 organized by polish national radio.
"The music of Lumpeks is charaterized by its free, brave and thoughtful interpretation of polish traditional music." (Piotr Kędziorek)
Find us on facebook!